Overview
SIP trunks are a popular way to connect your business phone system to the Public Switched Telephone Network (PSTN) using the internet. With SIP trunks, you can make and receive calls over the internet, which can save you a lot of money compared to traditional phone lines.
Vantact offers SIP trunks to a wide range of clients who use their own SIP PBXes. This means that you can use your existing phone system, but connect it to our SIP trunk service for a more affordable and flexible phone solution.
Our SIP trunk service provides you with high-quality voice calls, reliability, and scalability. You can easily add or remove lines as your business needs change, and you only pay for what you use.
In addition, our SIP trunk service comes with advanced features such as caller ID, call forwarding, voicemail, and more. You can customize these features to suit your business needs and improve your communication capabilities.
Overall, our SIP trunk service is an excellent choice for businesses that want to save money on their phone bills while enjoying the benefits of a modern and flexible phone system. Contact us today to learn more about how we can help your business.
Features
Save money every month with lower line and DID rental costs. Don't get stuck with expensive legacy phone systems.
Enjoy greater flexibility with our SIP trunk service. Easily add new features and open up more conversations with just a few clicks. There's no need for costly on-site visits.
Keep your existing phone number even if you move to a new location. Don't lose touch with your valued customers.
Take advantage of a modern IP PBX that supports all the advanced features of SIP PBX. You can choose the system that's just right for your business.
All of our SIP trunk lines come with all the features included, so you don't have to worry about missing out on anything.
Our SIP trunk service is compatible with a variety of systems, including but not limited to Cisco, GrandStream UCM, 3CX, FreeSwitch, Asterisk, and Vodia.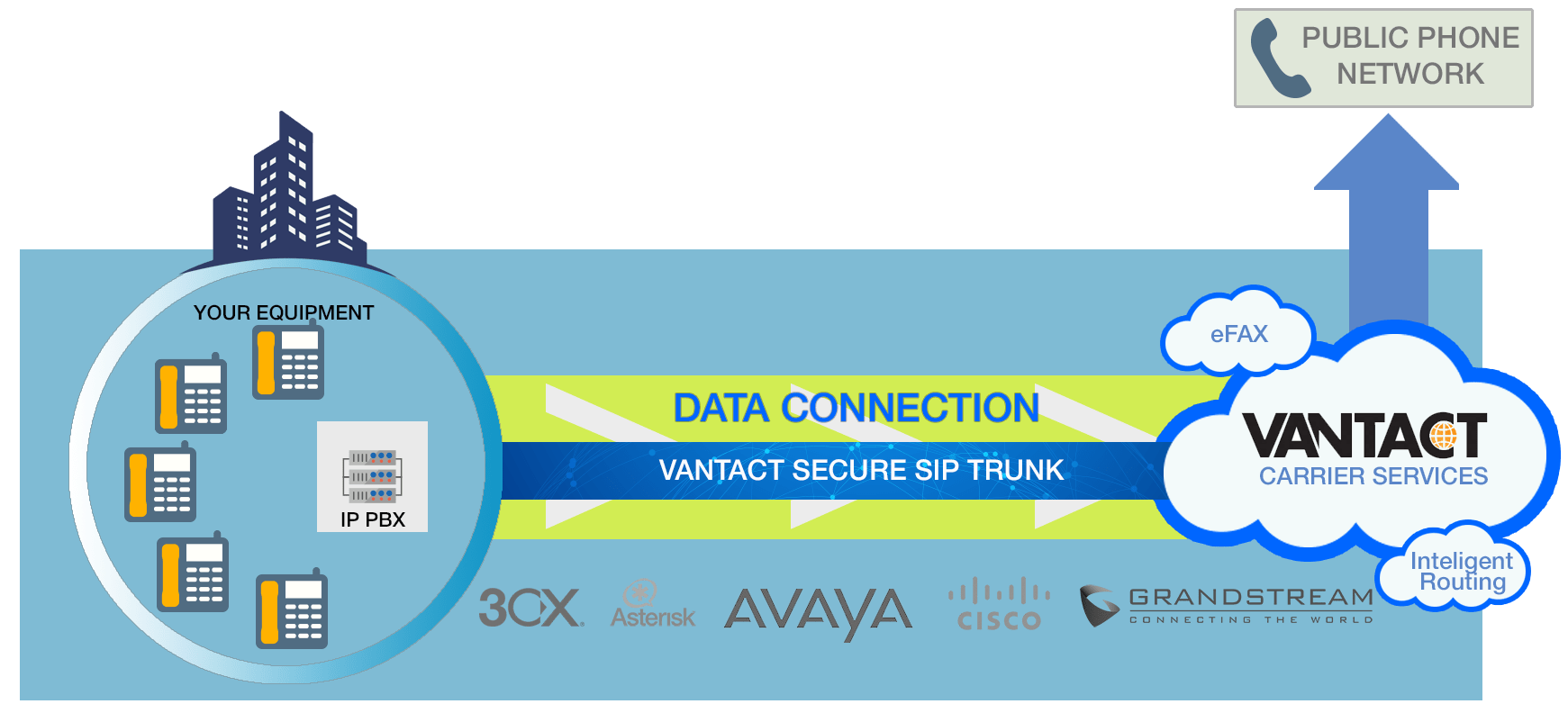 Tested with:
Our technology is compatible with all SIP enabled devices. If you need help with setting up your device, please contact our technical department.